Contact Us
Thomas M. Sweeney, CPA
Partner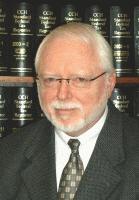 Phone 215-441-8460 ext. 14
Email
Loading Email...
A co-founder of Sacco Sweeney LLP, Tom is in charge of the firm Quality Review Program. With over 40 years of experience, Tom has performed audits of financial statements of for-profit and not-for-profit entities, business and personal income tax planning and preparation, and also worked with his clients in the areas of preparation of budgets and projections, preparation of business plan, systems design and installation, tax examinations, insurance audits, structuring of business agreements for stockholders, buy-sell and business continuation, estate planning, fiduciary accounting and fiduciary tax preparation, litigation support and business valuation.
Tom graduated from The Pennsylvania State University with a Bachelor of Science degree in Accounting. He is a member of the American Institute of Certified Public Accountants and the Pennsylvania Institute of Certified Public Accountants. He is a past member of the Bucks County Estate Planning Council, the Philadelphia Chapter PICPA Speaker's Bureau and the Bucks County Association of Certified Public Accountants.
He has been an instructor of accounting at Saint Joseph's University, The Pennsylvania State University and Bucks County Community College.